Updated: 6/17/2015
If you're serious about your online marketing efforts, you'll want to add an email sign-up form to your WordPress Site. There are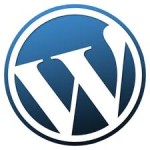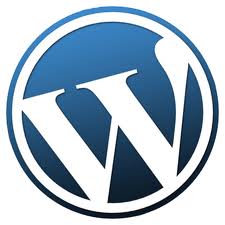 a number of ways to do this, and this post will look at Contact Form 7, a robust WordPress plugin that is easy to use.
1. How to Add Contact Form 7 to Your WordPress Site
If you're just getting started, you might not want the expense of an email subscription service such as AWeber or Constant Contact.
Use a plugin such as Contact Form 7 to create a sign-up form for your site. You can place the form in a widget area of your site. The plugin supports simple quiz challenge and/or CAPTCHA to help prevent spam.
Your visitor's name and address details will be emailed to you automatically. But you'll have to do the work of adding the name to a database or Excel spreadsheet.
I've used Contact Form 7 quite successfully in the past and this is a simple way to get started collecting visitor information.
How to Use Contact Form 7
1.  Log into your WordPress Dashboard.
2.  Click on Plugins > Add New: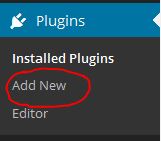 3. Search for the plugin by typing its name into the Search box: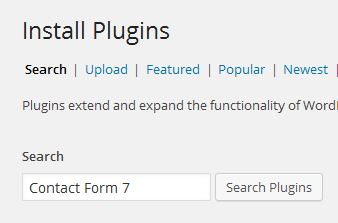 4. Click Install Now: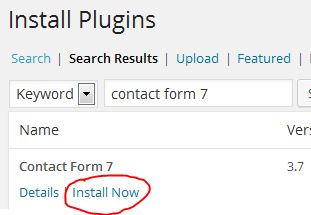 5. Now you're ready to activate the plugin: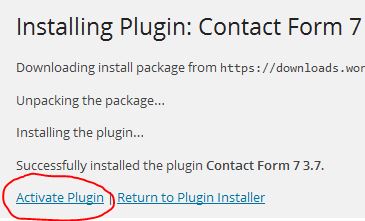 6. Click on the Contact gear in the Dashboard and click on Contact Forms:

7. Now you are ready to set up your contact form. Click on your new contact form: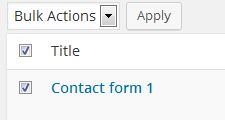 8. Your form and short code are  automatically generated: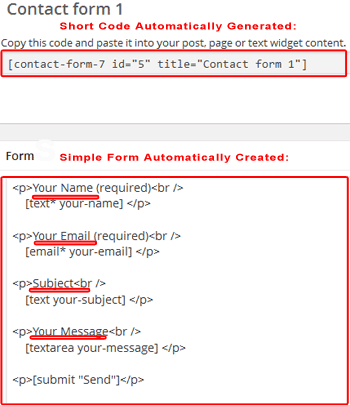 9. You can customize your form and add more data fields by clicking the Generate Tag drop-down: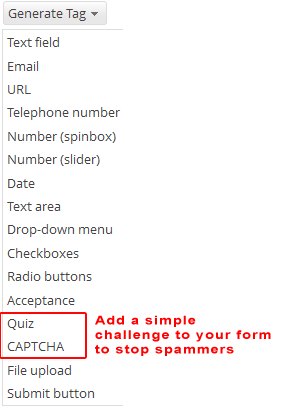 10.  Quiz is a great little tag for putting a simple math challenge on your form to help stop bots and spammers. See highlighted  areas below: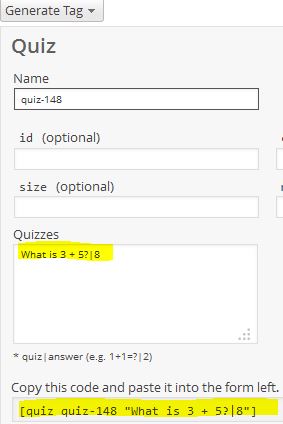 11. Copy the quiz short code and paste into the form: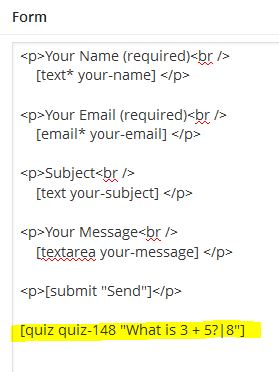 Without too much work, you now have the code to place in a widget of your WordPress site. Here's how you do that:
1. Grab the shortcode that was generated.
2. Place that shortcode in a  text widget, post or page: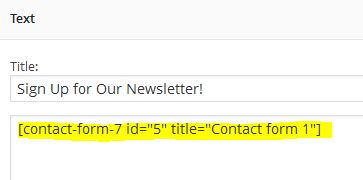 Here is your published form:
If the send button is clicked, a simple validation checks to see that name and email are entered. It then checks the math challenge to make sure the correct answer is input. If not, errors are returned.
Of course you can always add styling to your form, but this works just fine and is great for beginners to try!
I will also mention Contact Form DB as a possible plugin for capturing your subscriptions into your WordPress database. It's got a 5-star rating and I've used it quite successfully in the past. This way you don't have to manually enter your subscribers into a database or Excel spreadsheet.
Be sure to test it under the current version of WordPress first to make sure it works as expected. (You have upgraded WordPress haven't you?)
So now you know how to add Contact Form 7 to your WordPress site!
Styling Contact Form 7
It is possible to add styling to Contact Form 7 and I've been able to improve upon the overall look of the form through the use of some custom CSS.
PayPal Integration
A Google search will bring up a variety of posts on how to redirect your Contact Form 7 to PayPal upon form submission.
Additionally, a new plugin integrates PayPal with Contact Form 7. I have not personally used the new plugin, but it looks like a good solution for WordPress.
However, to create a truly robust form you might want to consider Gravity Forms. While it's not free, Gravity Forms will give you the ability to create forms that collect lots of data and the option to show a progress bar as the user is filling out the form.
Over to You
Any questions or comments let me know, or feel free to contact me if you require support with setting up your form.