Note: This post has had a lot of great discussion since it was published several years ago, and I truly appreciate all of the feedback. However, I realize that email subscription services are constantly rolling out enhancements and updates to their systems. For that reason, in order to keep this information fresh and relevant for my readers, I will need to revisit each of these services and "re-review" them as time permits.
In addition, some of our readers have left comments about other services that are not reviewed here such as Mad Mimi and CampaignMonitor, which may be great solutions for your business. I want to make sure the information posted here is accurate and helpful to you.
So please take time to do a little research of your own to make sure you are getting the best service for your business. Maybe some of the issues I encountered are non-issues by now.
AWeber vs Constant Contact vs MailChimp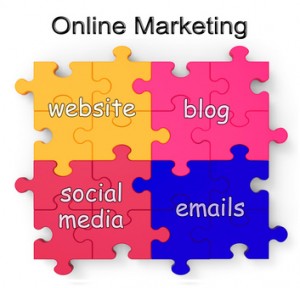 Whether you're a newbie or a veteran to internet marketing, choosing an email subscription plan can be overwhelming and confusing.
And if you're a small business owner who wears many (if not all the hats), you want to find a reliable service that is easy to learn and won't break the bank.
Maybe you are wondering why you even need an e-mail subscription service.
Or why you need an e-mail sign-up form on your website.
Wherever you are in your decision-making process, remember that email marketing is just one piece of the online marketing puzzle. And any internet marketer will tell you, there's "money in the list."
Why? Because each subscriber has shown an interest in your brand and wants to hear from you in the future. So in addition to providing valuable information, tips, and advice to your subscribers, you'll also be able to start promoting some of your services and/or products.
Leads Start with Content Marketing
If you have a website or a blog, your goal is to reach potential customers. The way to attract people to your website is by promoting your business through your content marketing efforts. And once you attract someone to your site, you'll want to do something that makes them remember your brand and come back.
Content drives inbound traffic. More traffic means more leads. So you might offer a visitor something free like an eBook or white paper in exchange for their sign-up to your email list.
So you see that you don't want to just give away your freebie without finding out who showed the interest. That's why you ask them to sign up to your mailing list first. Once done, they will have access to your freebie. And you're on your way to building your list.
AWeber vs Constant Contact vs MailChimp Review
We'll take a look at the similarities between the services first. Then we'll review the differences and why I moved on.
AWeber vs Constant Contact vs MailChimp – The Similarities

Over the past 18 months I've tried three commercial email subscription services: AWeber, Constant Contact, and MailChimp ~ in that order. (Please note: these are not affiliate links)
I'm not going into price comparisons here. Rather, you can click on the links I've provided above to get pricing plans for each of the respective services. You have the option, too, of test driving each service for the first month. I highly recommend you do so.
Video Tutorial Library
Each service I tried had an extensive tutorial library with short, helpful how-to videos.
Permission-Based Email Services
And each of these services is a permission-based service, which means a new subscriber must agree to being added to your list. This is accomplished through a confirmation email a new subscriber receives.
If they neglect to click the link, they will not be subscribed to your list:

A word of caution: You cannot just add people to your email list without their permission. There are mechanisms in place that protect subscribers from receiving unwanted spam. And if you add whoever you want to your list, that's considered spamming, my friend. So please don't do it! You will get caught and banned from using permission-based services if you spam.
Top-Notch Customer Service
I found customer support to be equally helpful with all three services. Whether I chose live chat or telephone support, I always got my questions answered immediately.
A Learning Curve
I want to add my own little disclaimer here: there is definitely a learning curve when setting up any type of email subscription service especially if you use an autoresponder.
You need to be patient with yourself and set aside a good chunk of non-interrupted time when you first get started.
That being said, let's move on and compare services! The remainder of this post will focus on my experience with each of these subscription services and why I switched.
AWeber
AWeber was my first email subscription service because it was widely recommended by many internet marketers I knew and trusted. I signed up for the $1 one-month trial. After that, I opted for the quarterly payment plan.
The Pros
I liked the fact that AWeber could take my RSS blog feed and automatically push out the most recent two posts as a blog newsletter. Quite a time-saver when it's time to get that next newsletter out!
The interface was fairly easy to use, but because this was my first experience with an email subscription, it took me awhile to get through setting everything up.
AWeber also holds regularly scheduled webinars to help newbies get a handle on how to get started.
Quarterly plan makes it more affordable than Constant Contact month-to-month.
The Cons
At the time of my subscription, images had to be hosted on my server, which was a pain. Now you can store your images in a library with your AWeber account. This makes image uploads much easier to manage.
Sometimes the service would go down or be unavailable on the weekends, which was when I typically wrote my newsletters. Very inconvenient.
Some sort of glitch would put garbage characters in my text. Almost always. So I had to be vigilant about finding and deleting such text.
I started having intermittent delivery issues, but I think that is a problem with most of these types of services.
The biggest issue was when my AWeber e-mail signup form began throwing mixed content warnings from my SSL website. AWeber did not have a solution to help eliminate this warning, so I jumped ship to Constant Contact, who did. Update 6/5/2014: I received a comment on another blog post from an AWeber employee who said that AWeber now supports SSL. This was great news to get, and I appreciate that he took the time to let me know.
Constant Contact
Constant Contact was my second choice. When I contacted pre-sales support about my SSL dilemma, they were very helpful and assured me that by embedding their email link on my site I would be able to keep a secure connection and not confuse visitors with the mixed content warning. It worked as they promised.
The Pros
Constant Contact set up a customized e-mail template as part of a promotion.
The interface was very intuitive and the easiest to use.
The email link worked seamlessly under an SSL environment.
I found email delivery to be the quickest for both test and live emails.
The Simple Share tool allowed me to publish my newsletter to any social platform I chose.
The Cons
This was the most expensive monthly solution. (AWeber per month fee is higher, but their quarterly plan cuts the cost.)
You can only upload 5 images to the image library for free. After that you have to upgrade.
In order to build a custom form, you need to purchase a subscription to Formstack, a partner service of Constant Contact.
MailChimp
I decided not to renew with Constant Contact and to give MailChimp a try. Ultimately, MailChimp was the most economical choice for my business. That being said, I also found it a little more difficult to learn.
The Pros
MailChimp provided the best value for me.
MailChimp has free image hosting with no limits at all. You can upload images as large as 10MB, but they recommend a 1MB max so that it delivers easily to a recipient's inbox.
It's free up to 2,000 subscribers. And it does take awhile to build a list of 2,000 subscribers.
It's very scalable as your business grows because of the "pay-as-you-go" plan which charges just pennies per email. So you're not locked into a monthly fee, which gets expensive when you're first starting out.
The Cons
For me MailChimp had the steepest learning curve. But we all learn differently so it may be a breeze for you!
You have to upgrade your account if you want an autoresponder. And let's face it, you probably will. You'll want to thank your new subscribers and send them a link to your free download.
One final note about MailChimp: one of my clients heard that you could not include affiliate links in MailChimp emails. That, however, is just a rumor. As long as that affiliate link is not blacklisted, you can include it. And that's just common sense and an ethical business practice for any email subscription service you use.
AWeber vs Constant Contact vs MailChimp: The Verdict
If you've read this far, you probably want a recommendation, right? 🙂 Remember, this is a high-level review based on personal experience with each service. You'll want to dig deeper into the features each service has to offer and make sure you get exactly what you need.
That being said I think MailChimp is the best choice for a small business just getting started with email marketing. The price is right and so far I've been very happy with it.
Are you using permission-based email services? If so, what other services would you recommend?