Updated 3/20/2018
Important Note: The Forty-Four plugin has not been updated in two years, therefore I can no longer recommend it. An alternative 404 page plugin you could try may be found here.
I will update this post as time permits with instructions on how to create a 404 page with the 404page plugin.
The remainder of this post pertains to the now outdated Forty Four Plugin, so use at your own risk.
---
A 404 page is a page that displays if a visitor types in a non-existent page or broken link on your website. Generally if that happens, your visitor will leave your site, which increases your bounce rate. And as you know, that's not good for search engine optimization (SEO)!
So instead, let's look at a way to provide a custom 404 page to help your visitor out. [clickToTweet tweet="#WordPress Tip: Learn how to create a custom 404 page and when to use a 410 instead." quote="#WordPress Tip: Learn how to create a custom 404 page and when to use a 410 instead." theme="style3″]
Google is very clear about creating useful 404 pages. That's because Google wants to give your visitors the best possible user experience when they are searching the web. So your site should contain a helpful 404 page that suggests what your visitor should do next if their search query lands them there.
And while you can have a simple 404 page, why not create a 404 page that brings a smile to their face, too?
There are several ways to create your 404 page. If you want more technical information on how to do this, you can read this excellent article by Robin Strohmaier of R&R Web Design where she explains how to create a proper custom 404 page on different servers.
Now that you have a better understanding of a 404 page, I'll show you the easiest way to make your 404 page. And that's through the use of a simple yet powerful WordPress plugin, Forty Four – 404 Plugin for WordPress.
This lightweight plugin will help you create a WordPress custom 404 page to replace the generic 404 page that you may have on your website.
How to Create a WordPress Custom 404 Page
First you need to install the plugin. If you've never installed a WordPress plugin, now would be a great time to learn how. Once the plugin is installed, activate it.
Next, from your WordPress dashboard go to: Appearance>404 Page. If you wish, you can leave the default title and message or customize them for your site.
Just follow four simple steps below and you are done!
Note: Click on image to enlarge

Set the title, if desired.
Edit the message, if desired.
Set a background image or color.
Publish your page.
You can further customize the plugin from the Appearance>404 Page tab by scrolling down and changing the styles as shown below: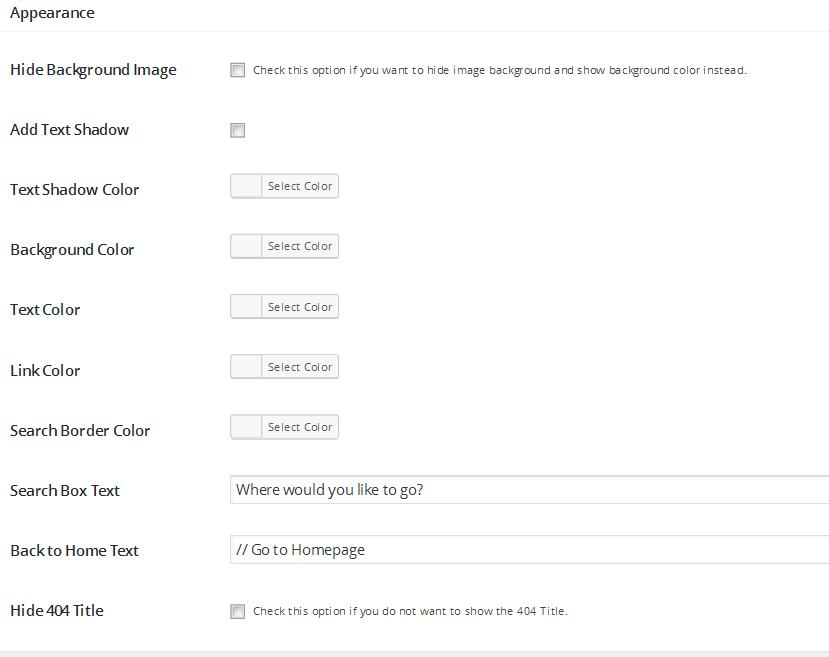 Setting Up Redirects
An additional feature of the free plugin is the ability to set up redirects for your 404 pages. The plugin will log the 404 errors and give you the ability to set up a redirect for those invalid links.
This is extremely important so that your website visitors and search engines are directed to the proper page. When you set up the redirect, it's best to use a 301 redirect, which tells the search engines that your page has permanently moved. Redirection and SEO best practices are beyond the scope of this article, but you can learn more here.
To set up the redirect refer to the screenshot below. Go to Appearance>404 Page and click the Logs tab. Find the URL that you want to redirect and add the redirect as follows:

Click Add/Edit Redirect
Enter the new URL
Test by clicking Go to Link
That's all there is to it for the free plugin version!
Upgrading to Forty Four WordPress Premium Plugin
The premium plugin offers 3 subscription levels depending on your needs.
It has the following additional features:
Branding and Custom Menu
Additional Layout Options
Google Fonts Typography Option
Detailed Logs
Referrer Logs
Search Keywords
Custom Scripts
If you look at our 404 page, you'll note our branding and the custom menu icon at the right. We chose the default typography, but could easily have changed it by scrolling down to typography and setting options as follows:

Additional Tools and Logs
A wonderful enhancement of the premium plugin is the detailed logs which will show you search keywords and referrers when possible.
To access that information, simply go to Appearance>404 and click the Logs tab.
Find the URL that you want to see the details on and click it: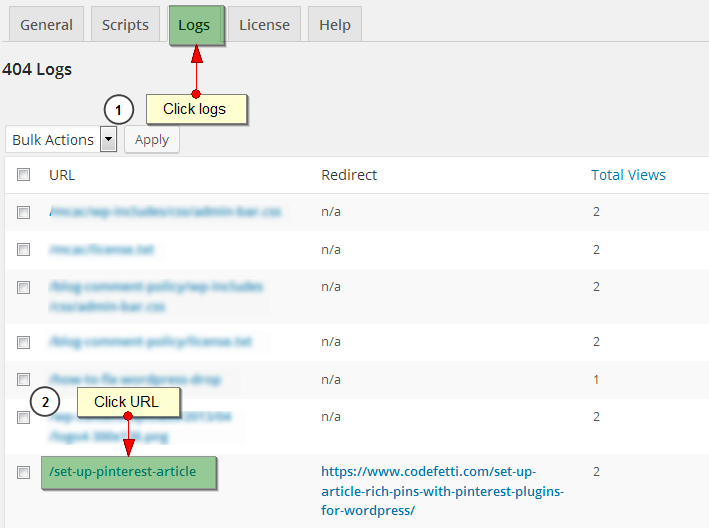 A pop-up window will then appear and show you the additional information, if available.
In the following screenshot, Googlebot had indexed 2 non-existent pages; therefore, no referrers or keywords were available.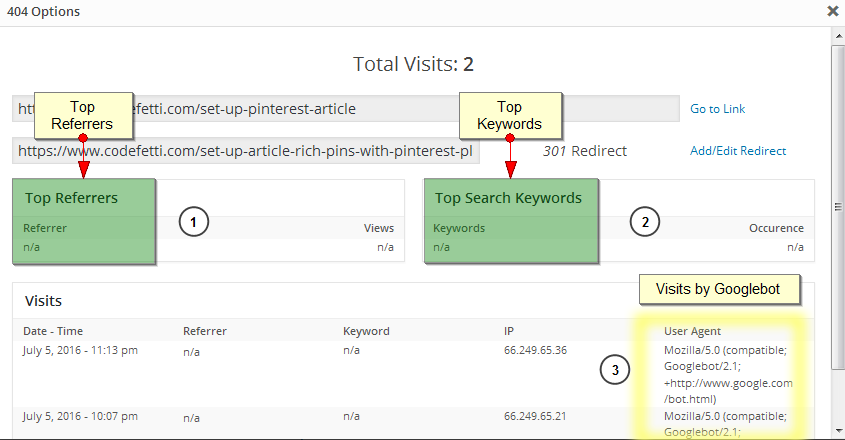 See how simple it is to create a WordPress custom 404 page? And by upgrading to the premium version of the plugin, you have additional analytics on how visitors landed there and what search terms they used. You can 301 redirect old URLs to new URLs and keep your visitors and the search engines happy!
Additionally, if you are a developer, you might be interested in adding your own scripts by clicking the Scripts tab and entering your custom scripts as shown below: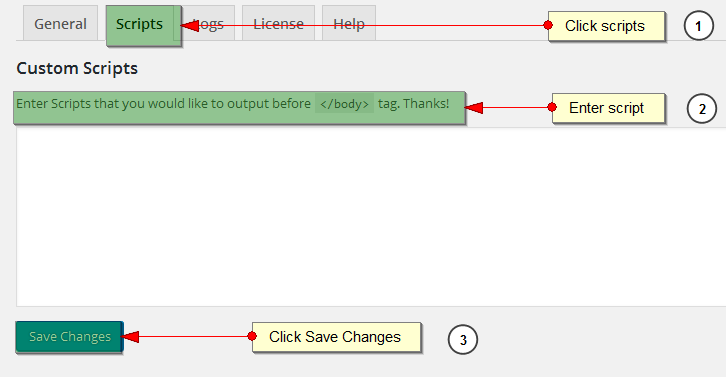 When to Use a 410 Response Code Instead
There are times when it's better to send a 410 response code to let the search engines know that a page has been permanently removed.
I've found 410 for WordPress to be just the solution I was looking for.
After completing a content audit on my site, I found it necessary to delete some of my older, thin content to try and improve the usability of my site. Instead of returning a 404 Page Not Found error, I decided to send the 410 response for each page URL I deleted from my blog.
By returning the 410 response code a search engine will remove the URL from its index permanently instead of crawling it continually just to receive a 404 response.
Note: this plugin has not been updated in nearly a year so I'm unsure as to whether it is still being maintained.
In Summary
In this post we discussed why a custom 404 page is important and how to create a WordPress custom 404 page.
We also discussed how to do a 301 redirect using the Forty Four plugin.
We talked about when to return a 410 response instead of a 404 response.
Finally, we looked at features of the premium version of the plugin such as branding, layouts, Google typography, detailed logs, and custom scripts.
Forty Four – 404 Plugin for WordPress is worth checking out. It's a lightweight plugin that changes the default 404 page to a custom 404 page that has your branding and personal touch to help your visitors navigate your site.
We are not an affiliate nor have we been paid to endorse this product. But we're always happy to review and pass along our recommendations to great products that we ourselves are using!
If you're interested in purchasing the premium plugin, the plugin author is offering a 20% coupon toward its purchase. Simply enter CODEFETTI20 as the discount code when you check out and enjoy the benefits of the Forty Four plugin for WordPress!
Do you use a WordPress custom 404 page on your website? When you land on a custom 404 page, do you explore the website more readily than if you land on a generic 404 page? Please share your thoughts in the comments below!