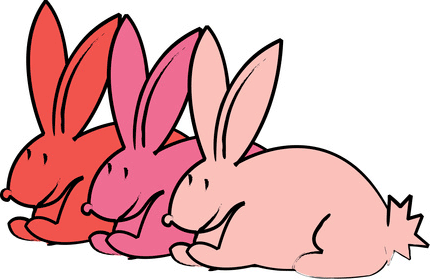 A few weeks ago I did a review on WP Twin  and included a step-by-step procedure for cloning a WordPress site with WP Twin (affiliate link).
In this post we'll look at how to use WP Twin Deploy to restore a backup.
After purchasing and downloading WP Twin,  you'll have two files:
wptwin.php: Used to clone or backup a WordPress site.
wptwindeploy.php: WP Twin file to deploy a clone (restore a backup).
How to Use WP Twin Deploy to Restore a Backup
You will need an FTP client to upload the necessary files to your server. I recommend and use FileZilla, which is a free FTP solution.
Using an FTP client, upload wptwindeploy.php to your server inside the root directory of your website. This will be the directory that contains your home or index page.
Next, assuming you have already created a clone (backup) with WP Twin, you will want to find that backup file. It will be named something like: wptwin-__YourSiteName_LL-2014-02-04-132920.wpt.
Using an FTP client, upload the backup file to the same location as the wptwindeploy.php file.
Once both files are uploaded, you are ready to restore your backup. Open your web browser and navigate to the wptwindeploy.php file as follows:
http://www.yoursitename.com/wptwindeploy.php.
 You will be prompted to validate that you are a registered WPTwin customer:

       7.  The following screen displays: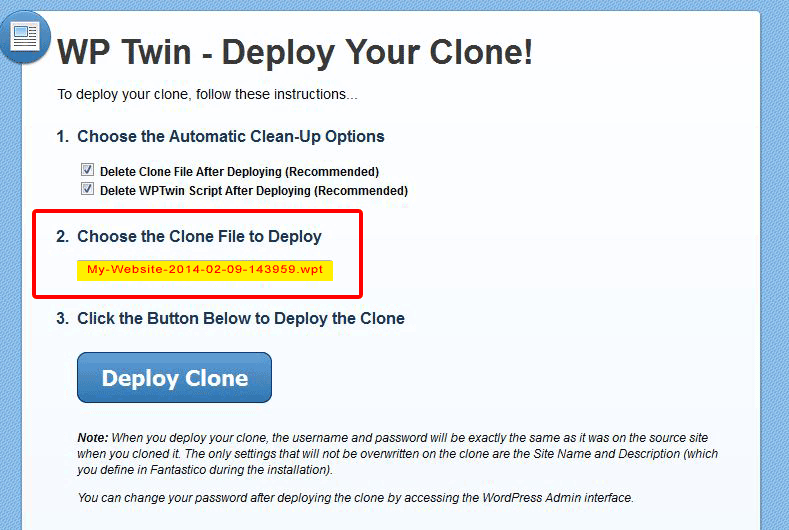 8.  Step 1: Keep the recommended settings. You do not want to keep a clone or the restore script on the server.
 9.  Step 2:  Browse to the backup file you wish to restore.
10.  Step 3:  Click Deploy Clone button.
That's it! Because you've kept the recommended settings, both the clone file and the restore script will be deleted, keeping your WordPress site secure.
Updated 2/23/2014  I recommend that you keep several of your most recent backups. And you should periodically set up a test WordPress installation and restore your most recent backup to make sure that it's working properly. I've had issues where a short server outage has caused a backup-in-process to become corrupt. Test backups on a regular basis to confirm all is working as it should be.
Please note that you cannot use WP Twin on local installations of WordPress. WP Twin isn't supported on Windows servers, Mac OS X, WAMP, XAMPP (or other Local environments), WP-MU or MultiSite configs. The necessary programs aren't there.
---
Please note: The links in the post above are "affiliate links." This means if you click on the link and purchase the item, I will receive an affiliate commission. Regardless, I only recommend products or services I use personally and believe will add value to my readers. I am disclosing this in accordance with the Federal Trade Commission's 16 CFR, Part 255: "Guides Concerning the Use of Endorsements and Testimonials in Advertising."