Many bloggers successfully use WordPress SEO by Yoast for article rich pins. I use and love this free plugin as well and recommend it to any blogger who wants to set up article rich pins.
However, as much as we all love to use free plugins, there are cases when it just isn't practical. Or sometimes you have no choice.
We recently ran into this with a new client who is the editor of a very popular beauty blog hosted at HostGator. We did some maintenance and upgrading of the site, and the client wanted us to set up article rich pins, too. Because of the size of the blog, which has close to 2,000 posts with nearly 2GB of images, HostGator wanted her to keep using Greg's All In One SEO Pack.
In a support email HostGator told us that "All In One SEO Pack and WordPress SEO have been found to cause issues in many cases and we generally recommend using Greg's High Performance SEO Pack in its place." 
In all honesty, I don't know what issues HostGator is talking about, but we didn't want to risk any problems since this client had been using Greg's All in One SEO Pack for quite some time. Due to the blog's popularity and HostGator's recommendation, we decided that we would leave that plugin in place and look for an alternate solution for article rich pins.
Pinterest Plugins for WordPress
Pinterest Plugins for WordPress looked like it would do the job. The license for article rich pins starts at $19 for 1-site. Our client purchased the plugin and received a license key which I installed in the WordPress dashboard.
Since her website was already verified with Pinterest, installing article rich pins was simple. Since this was the first time using the rich pin validator, we had to apply for rich pins with Pinterest. This process only took 3 days and once we were approved, we validated a few pins to make sure everything was set up properly.
The only issue we encountered was that this particular plugin uses a favicon for its image. Since the website did not have a favicon uploaded, the default Pinterest push-pin showed instead of our client's logo. Here is a screen shot from the Pinterest validator:
Pinterest Plugin No Favicon Uploaded: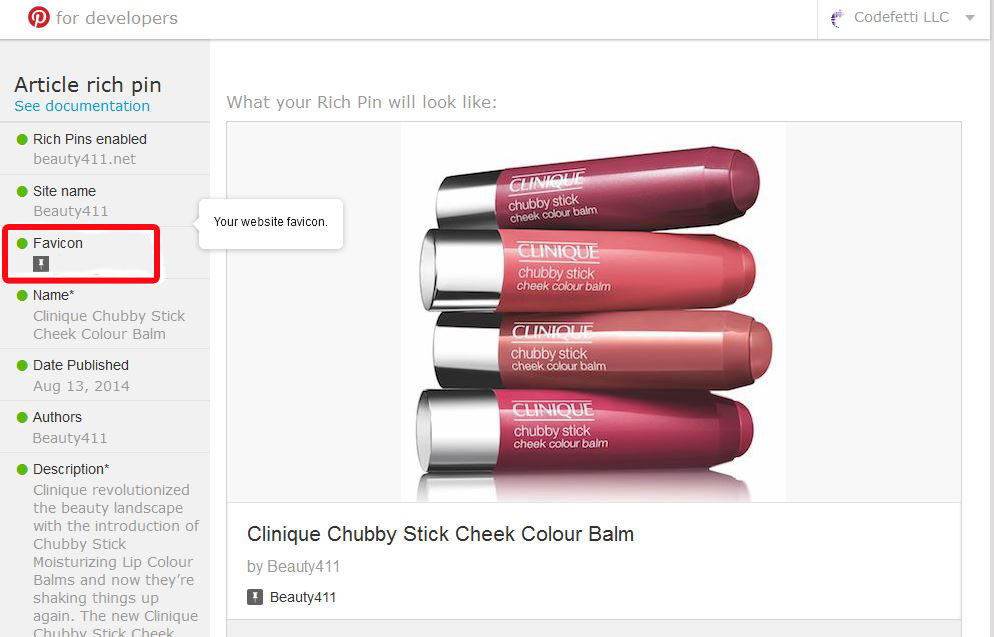 Once we uploaded a favicon to the website home directory, our rich pin validation was complete as shown in the following screenshot:
Pinterest Plugin with Favicon Uploaded: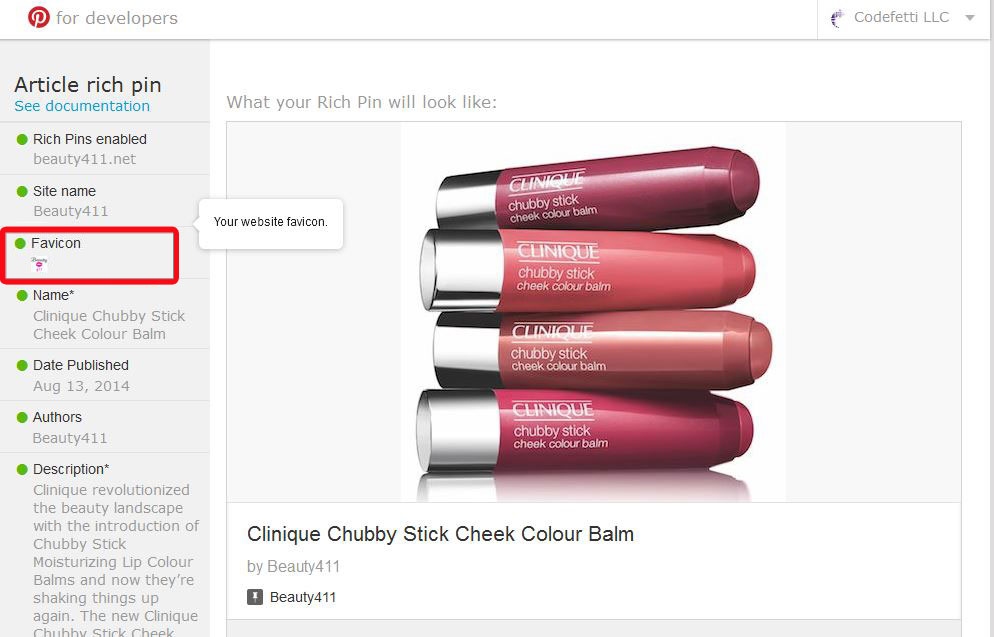 The Article Rich Pin
So here's how the article rich pin looks when you pin it. Notice the bold text, website credit, and logo. It's a great way for brand visibility on Pinterest.

Other Tips for Optimizing Article Rich Pins
WordPress SEO by Yoast uses your Pinterest profile picture (not your website favicon) for your article rich pins. Pinterest recommends uploading a 600×600 pixel image which gets resized to 165×165 pixels. Uploading an image smaller than the recommended 600×600 might not scale well and your rich pin will have a grainy image.
I discovered that with my own article rich pins. I also learned that JPEG is the best file format for your profile picture. I tried both GIF and PNG but didn't quite like how they looked.
I hope this post has been helpful to you. Please feel free to contact me with any questions or concerns about your article rich pins!