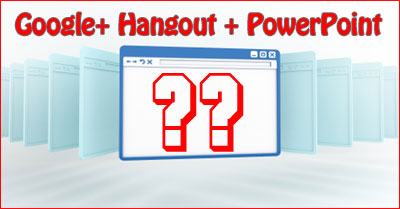 I scheduled a Google Hangout a few weeks ago to do some Twitter training.
The PowerPoint slides were done, I had rehearsed it thoroughly, and was looking forward to my first Google Hangout.
By now you know where this is going.  Yep, sometimes your best laid presentation will go astray. We got started, but my attendees just couldn't see the PowerPoint presentation from where they sat.
So, I talked my way through it live without the slides.  Then I went to work afterward to research what step I had missed.
The fix is quite easy, actually. (Isn't it always?)
The key is a simple setting in PowerPoint. You  need to set your PowerPoint presentation to an individual window. By doing so, you will be able to toggle to any window you want during your Hangout.
Here is a simple step-by-step procedure:
Using PowerPoint on Google Hangout
1. Launch PowerPoint.
2. Go to Slideshow>Set Up Slide Show: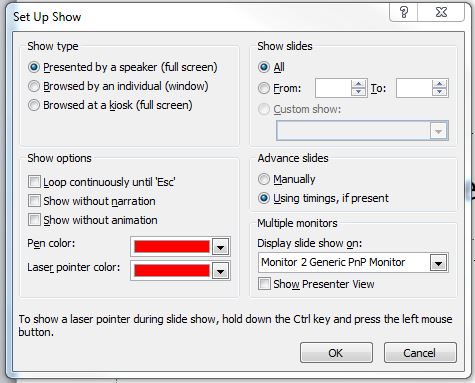 3.  Click the radio button next to 'Browsed by an individual (window)':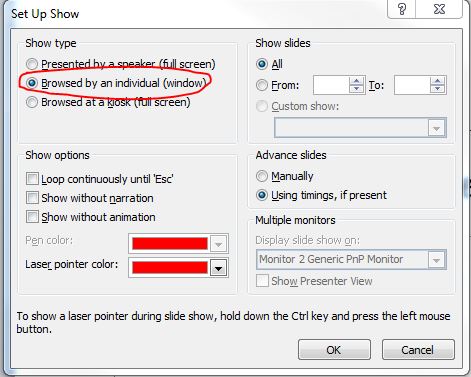 4. Click OK.
That's it!  Using PowerPoint on Google Hangout is pretty straightforward.
In Google+ under Screenshare you will be able to  share your screen and choose which window should display during your Hangout.  This will allow you to open your PowerPoint presentation in a separate window and toggle to it for full screen display.
You can use the Screenshare option to toggle back and forth between other screens during your Hangout. You can work in the other screens and they won't be shared during the Hangout until you share your desktop for that window.
Here is an excellent YouTube video by Walter Bayliss of HangoutPlugin.com that explains using PowerPoint on Google Hangout.
Simple, right? Have you used PowerPoint on a Google Hangout? What other tips and tricks can you share with us? We'd love to hear your thoughts in the comments below.