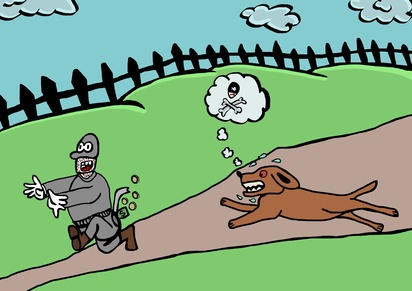 Updated 9/18/2015
Creating quality content takes great effort and a lot of planning.
So to find out that your top-ranking blog post has been lifted and posted word-for-word on another company's website is unthinkable and unacceptable.
But not improbable.
In fact, if you are an active blogger or content creator, it's not a question of IF your content will be stolen. But a question of WHEN you'll discover stolen blog content.
In an earlier post we looked at how important it is to protect your brand online. And why you needed to monitor your social media platforms on a regular basis.
Doing so not only protects your company's reputation, but it alerts you to potential copyright infringement so you can take appropriate action against stolen blog content.
The post you're reading here isn't really all that unique. In fact, most of the bloggers I follow have had run-ins with other businesses who have stolen blog content and published it as their own. I followed their sagas intently to see what they did and how they handled it. I empathized with their anger, frustration, and resolution.
And they blogged about it, too, so people like me would know what to do if the same thing happened.
But I secretly hoped it wouldn't happen to me.
And then it did.
I decided to share my story, too. It's a way to say "I survived and you will, too!" It's a way to help others. And it's a way to put future content thieves on notice that plagiarism of my content will not be tolerated.
Up until this point, I've had great success contacting infringing webmasters about taking down plagiarized content. And that's the way I prefer to handle any sort of issue like this. I don't want to start a flame war on social media or create drama online.
But a recent infringement left me no choice. One morning I noticed a trackback to my top-ranking blog post in the WordPress dashboard. I checked it out, only to discover that the post had been lifted and posted verbatim on another website. That webmaster even claimed authorship of the post. Then he shared the link to "his post" on Twitter, Facebook and Google+.
My top-ranking post had now fallen into the duplicate content realm, which hurts SEO. To be honest, I fumbled my way the next couple of weeks to resolve this. But in the end I was able to get the stolen blog content removed.
Here is what I did:
Screenshot the Stolen Blog Content
Make sure you keep a copy of the plagiarized content in case any future dispute arises. I would have never thought about doing this until I read an article by HubSpot. So make a screenshot of the offending website along with the date and URL and keep a copy of it for your records.
Contact the Webmaster
I tried to contact the webmaster who published the stolen blog content.
1. I looked for a contact form on the website, but none existed.
2. I found which social media platforms the business held.
3. I immediately sent a private Facebook message to the author on the business' Facebook page.
4. I posted a request on their Google+ business page and asked that the content be removed.
But I received no response.
I then rolled up my sleeves and dug in to see what recourse I had.
Contact the Web Hosting Company
I found who was hosting the offending website and contacted the hosting company's technical support via phone.
I was told to submit a support request and report the copyright violation to the abuse department, which I did. I never received a response.
Contact the Domain Registrar
I then decided to search the WHOIS database where I attempted to find who owned the domain name. I hoped I could find a contact email address or phone number. But, since domain privacy was set up, that webmaster's contact information was hidden from me. However,  I was able to find out who the domain registrar was. And luckily it was an ICANN-accredited registrar.
ICANN-accredited registrars are required to provide abuse contact information and investigate any reports of abuse.
I received an email response fairly quickly with a DMCA Complaint form attached. This form serves as a notice of copyright infringement. But be aware that the burden of proof does fall on you to prove that you are the original copyright holder and that use of  the content infringes your exclusive rights as Owner.
Since the content in question was indisputably written and owned by me, I went ahead and filed the complaint, asking for the stolen blog content to be removed.
File a Google Link Removal Request
I then filed a Google link removal request through Webmaster Tools. Now, this was a bit fuzzy to me. Some online information suggests only filing a link removal request if the stolen content is outranking yours. Since I addressed the website stolen content immediately, the offender was not outranking me. But I thought it couldn't hurt, so I went ahead and filed it.
The Results
The stolen blog content was removed three days after filing the DMCA take down notice. Ten days after the initial attempt to contact the offender, I eventually received a Facebook message from him. He initially told me he had linked to the content. His second message said the content was removed.
I'm not sure who removed the stolen blog content, but it's gone. And Google removed his link from its SERPs.
It was a time-consuming exercise, but in retrospect, it's good to know there are mechanisms in place to help us deal with stolen blog content.
Please note: I am not a lawyer nor did I contact an attorney at any time during this ordeal. Maybe I should have. You might have to. Every plagiarism case is different, and if you have any doubt or questions about your rights and your recourse, your best bet is to consult with an attorney.
Image Theft
Personal photo theft and online distribution of these photos is a growing problem. Many times people distribute private images out of revenge. You've seen the news reports of celebrity photos being hacked and distributed causing unbelievable distress and impact upon individuals and their families.
And  don't forget"The Snappening" ~ which was a wake up call for parents whose children were involved in sexting through the Snapchat app. Those sensitive photos, which theoretically were supposed to "self destruct" after a few seconds of posting, were harvested and distributed by a third-party app.
Raising awareness and providing guidance to individuals and families can help with resolution and prevention of these crimes. To that end, hosting company WhoIsHostingThis recently published a guide, Stop Internet Image Theft. They are well-placed to provide this guidance and help victims discover who is hosting the offensive content and can help with the take-down notice.
Additional Resources
Simona R. Stefanescu of Simona Media, provided several great links that helped me navigate the whole process:
Help! Someone Stole My Article Content
5 Easy Tools to Effectively Find and Remove Stolen Content
Are People Stealing Your Content? How (and When) to Fight Back
And in a very timely post Robin Strohmaier of R&R WebDesign, shares proven strategies in her recent post Website Plagiarism – Proven Strategies to Prevent & Fight It.
I hope you have never had to deal with stolen blog content or website plagiarism. But if you have, please share how you dealt with it and what steps you took in the comments below.
 Image Credit: Fotolia