Updated: 6/13/2014 – I've since moved to A2 Hosting for reasons cited below.

It's been one of those weeks.
Like many others, on July 29th I received an email from HostGator informing me that my account was "being upgraded" onto better hardware. HostGator also said they would contact me within 48-72 when the upgrade process started. Then they would send a followup notice detailing how to update DNS/Nameservers.
I received the first notification email again on August 17. I never received any of the follow-up emails.
But I actually forgot all about the migration. I've been with HostGator for a little over a year and I've always been very happy with their support.
So I was surprised to start seeing intermittent outages on my site over the past month. Which got steadily worse.
Then this past week, the site seemed to be down continuously. I was thankful that I had signed up for a free subscription to Pingdom, which allows me to monitor my website 24×7. Pingdom mails a report whenever your site goes down and when it comes back up again. So the outages were almost continuous for several days and they happened a lot during our business hours.
Here's a snapshot of what was happening. The orange arrows indicate downtime and the green arrows indicate uptime: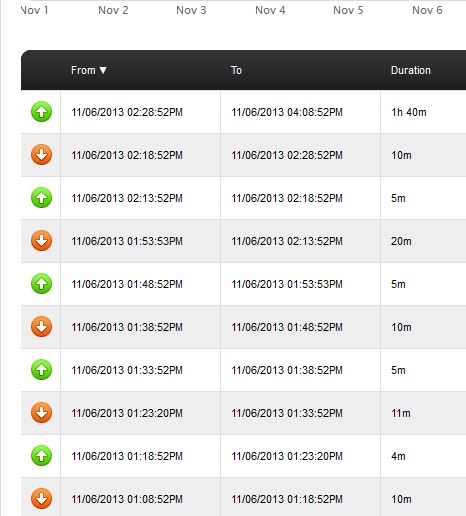 Needless to say, productivity came to a standstill because we couldn't get to our WordPress dashboards.
But worse, people couldn't get to our site, which was really frustrating.
On Wednesday I tried to contact @HGSupport on Twitter, but never got a reply. I then went to Live Chat on their website and technical support really tried to help, but they didn't know what was wrong. So they opened a help ticket for me to "escalate" my issue to an admin. But I haven't heard back yet.
I commiserated in Facebook Groups and Google+ Communities and started polling people to see who was having issues and what other service providers were more reliable. I received lots of support and some good recommendations for other hosting providers.
I learned that many HostGator customers and affiliates were bailing, fed up with poor customer service and interrupted service.
So I started down the path to investigate other hosting companies. But guess what? The first company I contacted said they had such a large influx of new clients, there was over a two-week wait period to migrate. Surprising? Not really. If so many people are leaving HostGator,  they have to go somewhere.
Someone shared a link with me that explained the recent takeover of HostGator and other top hosting companies by Endurance International Group (EIG). I was not aware of the takeover until this week.
But stepping back from everything, I have to assess my own situation apart from what others are experiencing. The past two days the server has been stabilized and my uptime has been  97.54% with 6 downtimes totaling 56 minutes. We'll see if the improvement continues. Sometimes you have to give people a chance to do their jobs. Yes, I know we lost website traffic. Yes, I know the downtimes are impacting SEO. But it happens at other hosting companies, too.
I'm not happy that I didn't receive a response to my support ticket yet. But no hosting company is perfect. And I guess if technical support stopped their work on correcting the problem to respond to every support ticket that came in, well, they'd never get it done.
Furthermore, I can't believe a group of investors worth their salt will sit back and watch customers leave in droves. What do they have to gain by doing so? And I've been with enough hosting companies to know they all have their issues from time to time.
Update 6/3/2014
The Switch to A2 Hosting
So for now, I will sit tight and take a "wait and see" approach. I will give the "new" HostGator a chance ~ at least for a while.
In January I switched to A2 Hosting (affiliate link), and I haven't looked back! Not only is the SSD Hosting super fast, up-time is 99.99%, and technical support is second to none. I can rest easy knowing that my website is well cared for by A2 Hosting. I receive monthly Pingdom reports that show minimal downtime; for example, last month my site was down for 5 minutes the entire month. After nearly six months of web hosting there, I can confidently recommend A2 Hosting and have started moving clients there, too.
If you're still wondering whether to stay with HostGator, you can read about other website owners' HostGator experiences and decide for yourself.
How about you? If you're a HostGator client, will you ride out the storm leave, too?