Updated 11/17/2015
Wondering why you need a mobile website now?  Whether you are a service provider, retailer, or solopreneur, here are just a few statistics to help convince you:
According to Internet Retailer, "80% of smartphone owners want more mobile-optimized product information while they're shopping in stores."
2015 Cyber Monday online sales are projected to reach $3 billion breaking all records for digital sales.
Google has officially reported that more searches are conducted on mobile than desktop.
And the list goes on and on. Are you beginning to see the opportunities for your business?
If you're still not convinced, pull out your smartphone and call up your website. Chances are you will have to fiddle with the display to enlarge the navigation menu or actually read the text.
If you don't have a mobile-optimized site, it will probably look something like the before image below: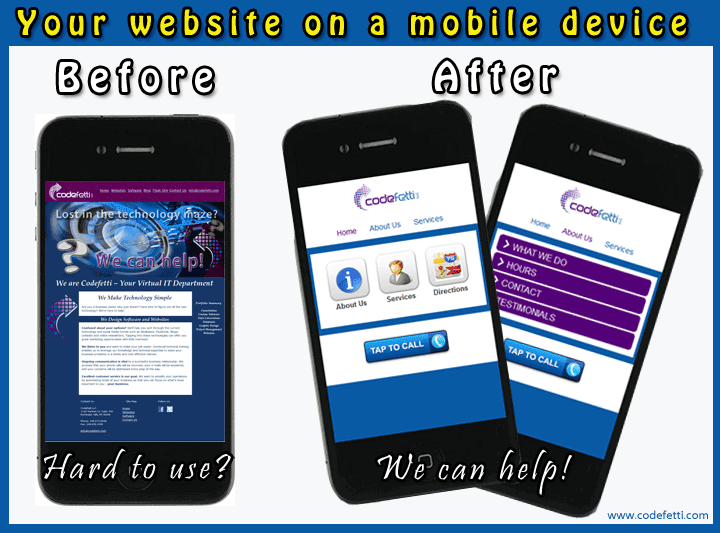 You can see in the after image that a mobile-optimized website will be easier to navigate and will have all pertinent information right at your fingertips. Plus a simple tap to call button will auto-dial your business. I don't know about you but it's hard to dial a phone number from memory when you are searching for information on a smartphone.
A simple script uploaded to your web host will detect whether or not the user is on a smartphone. If so, the script will redirect the user to the mobile-friendly version of your website. That mobile version can have just the most important details about your business.
In April 2015 Google began an algorithm update that affected search traffic of non-mobile friendly sites.
The Wall Street Journal cited Adobe research that reported non-mobile friendly sites saw a 12% traffic drop.
And another study by Stone Temple Consulting showed that roughly 50% of non-mobile friendly URLS dropped in rank.
So having a mobile-friendly website is no longer an option for businesses.
If your website is not geared for mobile users, it's time to revisit your online marketing goals and set a mobile marketing strategy in place.