If you are new to YouTube, this post will show you how to categorize YouTube Videos.
You'll learn how to upload and organize videos and how to categorize YouTube videos into playlists and sections.
If you've had a YouTube channel for awhile, now is the time to clean it up and optimize it by following the steps in this post.
How to Categorize YouTube Video Topics
This post is divided into five topics and will show you:
How to Upload a Video to YouTube
How to Edit YouTube Video Tags and Settings
How to Categorize YouTube Videos into Playlists
How to Create a Section in YouTube
How to Create a Video Thumbnail
Once you've set up your YouTube channel, it's important that you organize your YouTube library. This helps viewers explore your channel and find content they're looking for.
To properly categorize YouTube videos you need to tag videos and organize them into playlists.
Properly tagged videos will help your content get found in YouTube searches. And it will help your videos show up in YouTube suggested videos.

Playlists make is easier for your visitors to find your content and explore other videos in your channel.
So let's see how this is done!
---
How to Upload a Video to YouTube
As long as your video is saved in a supported file format, you can upload it using the following steps:
Upload Your Video
Once you are logged into your YouTube channel, follow these steps:
1. Click Upload button located in the upper right corner
2. Select Upload video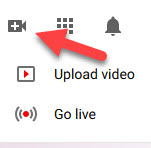 3. Choose your privacy settings. Public is the default.
4. Browse to find the file to upload and click on it. Or drag and drop the video files into the upload window.
You can upload videos up to 15 minutes in length. If your video is longer than 15 minutes, you'll have to increase your limit first by verifying your account.
Add a Description, Tags, and Hashtags
Once your video processing is done, you can add a video description, tags, and hashtags.
And now is the time to also add the video to a playlist.
Steps to Categorize YouTube Videos
The following steps should be taken as soon as your uploaded video is done processing but before you click the Publish button:
Give your video a descriptive title.
Add a short but helpful description which includes hashtags (#) in front of keywords or key phrases. This will make your content more searchable and help Google better understand what the video is about.
Add your tags separated by a comment
Add your video to a playlist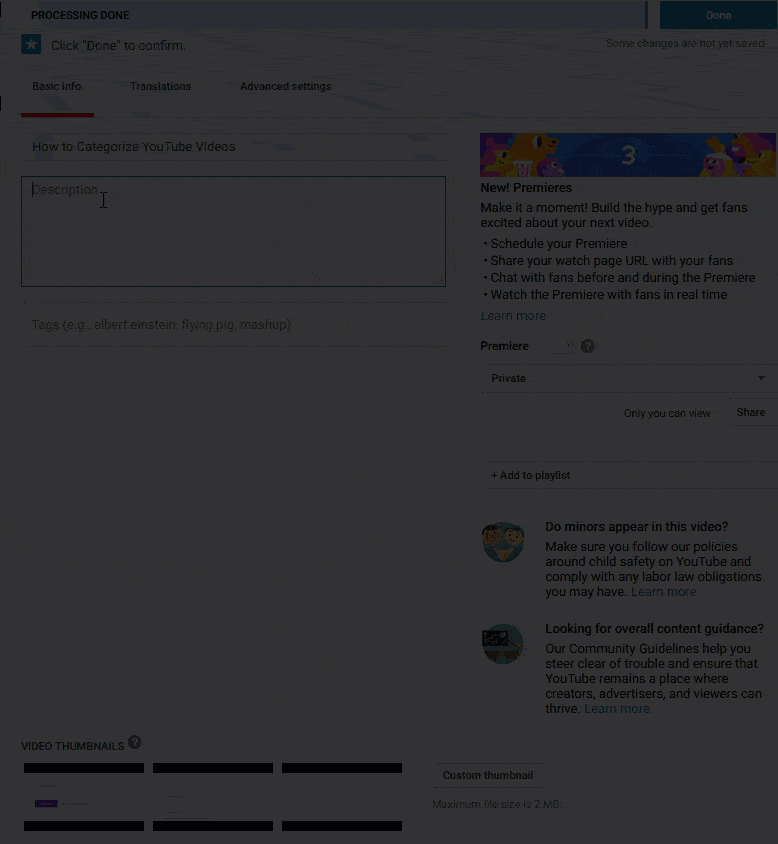 Tag Your Videos
There are several types of tags you can add to your video. Adding each type of tag to your video will further optimize your YouTube channel:
Types of Tags
Specific Tag: a one-word tag. For example: "WordPress"
Compound Tag: a tag with several words. For example: "WordPress Tips and Tricks"
Generic Tag: such as How To, or Tutorial. For example: "How to Turn Off WordPress Comments"
Misspelled Words Tag: which tags your video by commonly misspelled words. For example: "Wordpres"
Hashtags: which are used on most social platforms. Add a # before your keywords/key phrases: #WordPress
Properly tagging your video will ensure that it gets optimal exposure as people search for your content.
---
Edit YouTube Video Tags and Settings
Sometimes it's necessary to edit your video settings and information once you've uploaded a video. Maybe you want to add more tags, change a description, or add the video to another playlist.
There are two ways you can add tags to a video that has already been uploaded.
Log into your account, click Customize Channel and click on Video Manager located just above your channel image:

Next follow the steps below:
1. Check the check box next to the video you want to update.
2. Click the EDIT drop down.
3. Add or change the video tags and settings as desired: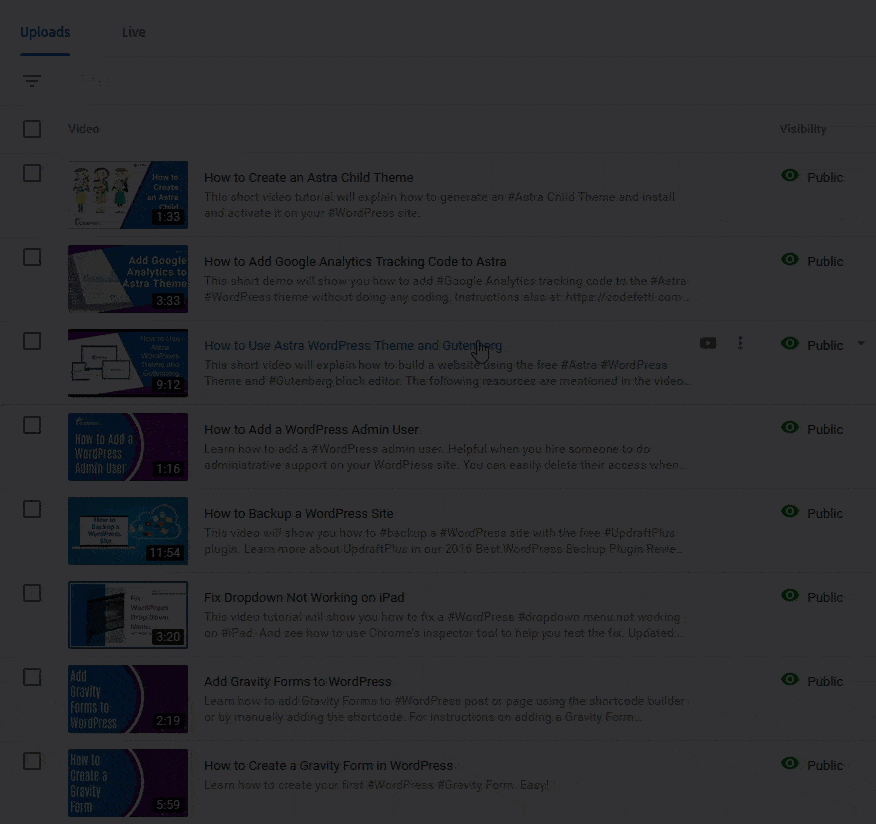 Another Way to Edit Your Video
1. From your channel dashboard, click Customize Channel
2. Click on the video you want to tag
3. Click Edit Video
4. Click Basic
5. Make your edits and add your tags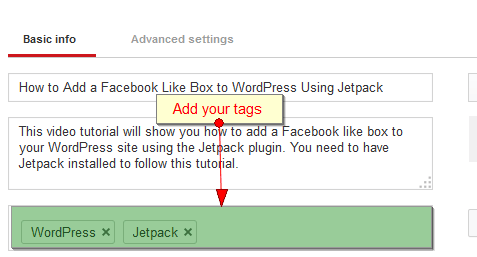 Now your videos will be tagged and and more easily searchable in YouTube.
Next, we'll look at step-by-step instructions that show how to categorize YouTube videos into playlists.
---
How to Categorize YouTube Videos into Playlists
By grouping your videos into categories of like topics into playlists, your YouTube channel will be organized and provide a better experience for your visitors.
A simple way to categorize YouTube videos is through the use of playlists or sections.
You can create a new playlist by following this procedure:
Create a New Playlist:
1. Log into your YouTube channel and click Customize Channel
2. Click on + New Playlist
3. Add your playlist title
4. Choose privacy settings: Public, Unlisted, Private
5. Click Create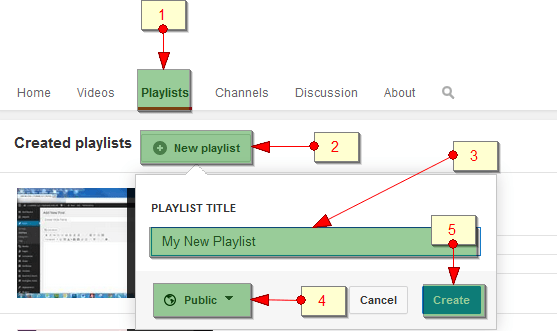 Add Your Video to the Playlist
1. Check the check box next to the video you want to categorize:
2. Next click the Add to Playlist drop down at the top
3. Select the desired playlist or create a new playlist: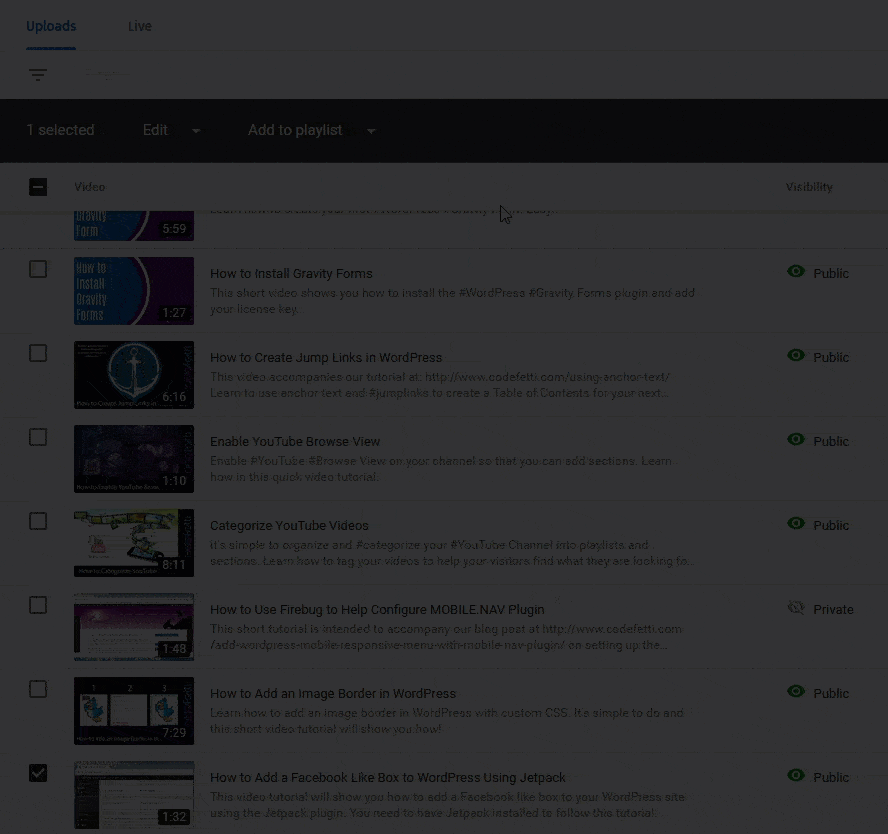 Now your video will be streamed alongside videos of similar content. It will also appear in search results and suggested video results.
Next we'll look at how to use sections and why you might want to add sections to your channel.
---
How to Create a Section on YouTube
Sections is a YouTube feature that lets you organize videos and playlists into groupings.
Your channel can contain multiple sections. And sections can hold one or more related playlists, channels, and/or videos.
By using sections, you can control the layout format by choosing how you want your sections to display.
For example, you can display videos in a horizontal row or a vertical list. Or you may want to feature a trailer on your channel home page.
You can learn more about sections in YouTube's online help.
Important Note : Previously, you needed to have Browse View enabled on your YouTube Channel in order to add a section. Several years ago I put together this quick video tutorial which explains how to enable that setting.
However, I recently helped a client set up a new YouTube channel and it looks like that requirement is gone. So please be aware that you may or may not have the Browse View requirement depending on when your channel was created. These instructions may be slightly different for you.
1. To create a YouTube section, click Customize Channel and navigate to the Home tab of your channel.

2. Next scroll down to the bottom, click Add a Section:

1. Click on the CONTENT drop down and choose the content type you want in the section; for example Videos, Playlists, or Channels
2. Click on LAYOUT and choose the desired layout format; for example, Horizontal Row or Vertical List.
3. Depending on the type of content you selected in step one, an additional selection box will appear; for example Playlist Selection.

Select the playlists, channels, or videos you want added to the section.
Now you have effectively grouped your content into well-defined sections on your channel.
---
How to Create a Video Thumbnail
Creating a video thumbnail is optional, but it's a nice way to attract attention and get some brand recognition.
Otherwise, you are limited to the 2 or 3 thumbnail snapshots that YouTube generates when you upload a video. And you have no control over the type of thumbnail that YouTube creates.
Create a Custom Thumbnail
In order to create a custom thumbnail, you must first verify your account. Once verified and if you are in good standing, you'll be able to upload your custom thumbnail.
As of this writing, dimensions should be 1280 pixels wide by 720 pixels tall, with a minimum width of 640 pixels.
It's best practice to create your image under the 2MB limit with a 16:9 aspect ratio for best viewing.
Once your video has been uploaded, choose your thumbnail: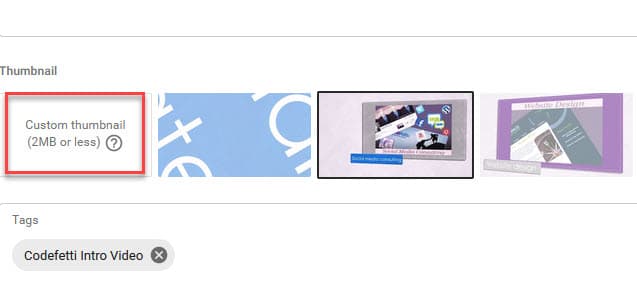 You can also add a new thumbnail to an existing video by clicking Customize Channel, click on the video, click Basic tab: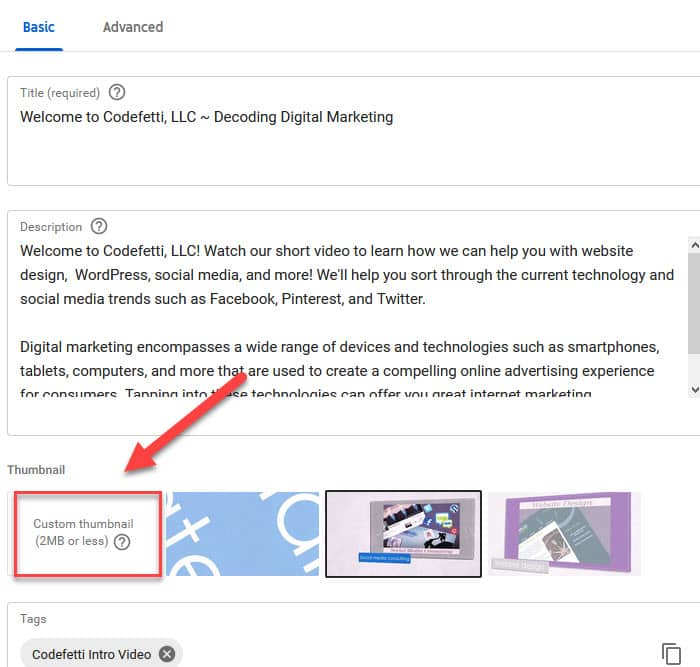 ---
Watch Our Video Tutorial:
Please note: while this blog post has been updated to reflect the latest YouTube instructions, the video tutorial is slightly outdated for some of the newer features. I'll update that as time permits.
---
In Summary
Hopefully this post has helped you learn how to effectively categorize YouTube videos .
You learned how to tag your videos and categorize them into sections and playlists.
It may seem a bit overwhelming at first, but once you've uploaded a few videos you will see how easy it is to keep your YouTube channel organized.
Have a question or comment? How do you keep your YouTube channel organized?
Feel free to leave your feedback in the comments below. I'm always happy to help!
Image credit: Fotolia