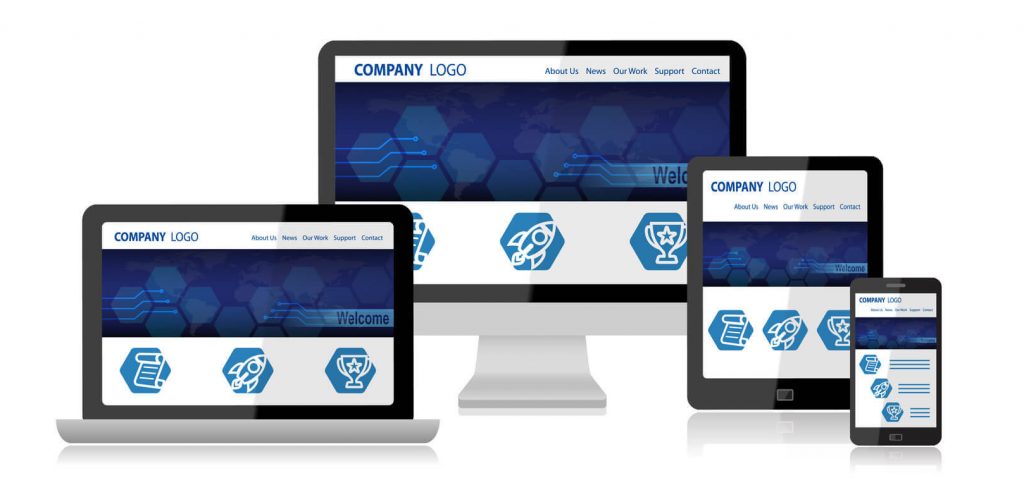 Website design involves a variety of skills and technologies. Complex websites generally require a team of skilled graphic designers, web designers, content writers, SEO (search engine optimization) experts, and web developers.
However, some web designers are capable of executing all of the tasks involved in website design especially for smaller sites. Many of the roles overlap and vary from company to company. Some freelancers are capable of performing all of the tasks associated with building a website.
When looking at website design options, there are several factors to consider including branding, site usability and user experience, performance, security, and marketing/sales page development.
Your design depends on what your goals are for your website. Our agency will help you define those goals and your marketing message and translate it to a site that performs for your business.
Responsive Website Design
Responsive website design is an approach that ensures a website provides the best possible viewing experience across different types of devices. This includes a wide range of devices from your desktop PC to a tablet to a mobile device.
Responsive website design is the current standard for website development. Typically the site is designed with mobile in mind right from the start.
Responsive website design is fluid and flexible and has the ability to adapt according to the device's layout.
This website is a responsive website. You can test it for yourself by simply re-sizing your browser right now and see how the site responds. Notice how the site collapses as the screen width gets narrower.
WordPress
WordPress is our platform of choice for website design and development for many reasons. The wide selection of ready-made themes and plugins shortens the design cycle and affords the business owner more time to concentrate on website business goals and objectives. This reduces the cost of "from scratch" frameworks and designs.
However, because of the readily available WordPress themes and plugins, sometimes it's hard to make a decision and business owners fall prey to common pitfalls. Rest assured, with a little WordPress training you can swap out your theme, add plugins to your site, and test your site along the way. You'll also learn strategies for updating your site when the framework, theme, or plugins need upgrading.
Additionally, since WordPress is a content management system (CMS), pages and posts may easily be updated as needed giving business owners control of their websites.
The WordPress developer community is expansive, supportive, and proactive in mitigating security vulnerabilities.  The developers work hard to continuously improve the performance and security of the WordPress framework.
Planning a website can be exciting and daunting at the same time.
At Codefetti we are able to help you with all aspects of proper WordPress website design.
Please contact us to help you with your WordPress website design.