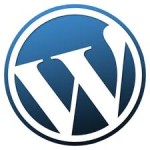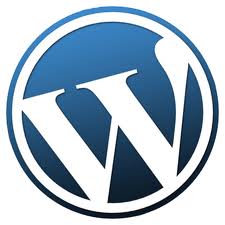 Updated: 7/6/2015
When it comes to developing or maintaining a WordPress site, you have three choices:
1.  Work on the server. If it's a development site, you can hide your WordPress site from search engines and hope the search engines honor your request.
2.  Put the site into maintenance mode using a WordPress plugin until your work is done. This isn't the best approach if your site will be in development for any length of time.
3.  Create a local WordPress site installation, which can be tricky and could take a while to get all the pieces in place.
However, for new site development, it's ideal to create a local WordPress site until you are ready to launch.
Create a Local WordPress Site with Instant WordPress
A while ago I discovered Instant WordPress, which makes it easy to create a  local WordPress site. Development and testing is a breeze. I've actually been running a development installation from a USB drive!
You can even create multiple installations on the same USB drive.
Instant WordPress lets you develop the site locally, and if you run it off of a USB drive, it's easily transportable to client meetings. This is helpful when you might not have internet access at your meetings. It's also ideal for client training. They can work offline on their new website and learn WordPress as they go without worrying about doing something to mess up a live site.
Of course, you can always develop up on the server so clients can have an instant link to view the work in progress. But Instant WordPress is great alternative and is especially suited to new site development.
The developer does a pretty good job of keeping Instant WordPress up-to-date. However, even if you download and install a version of Instant WordPress that isn't using the most current WordPress release, you will be prompted to update WordPress. Everything works fine from that point on.
As documented in the features for Instant WordPress 4.4.2, software components include:
WordPress 4.1
Apache 2.2.15 (Win32)
PHP 5.4.36
MySQL 5.1.46-community-nt
Please note that Instant WordPress is not intended to be used on live websites.
From my experience, I was able to create a local WordPress site with Instant WordPress and have been using it without a hitch.
It's simple to create your standalone site:
How to Create a Local WordPress Site with Instant WordPress
1. Download and run the installation program. Here is where you would specify your USB drive if you want a portable version of your site.
2.The installation creates a folder called InstantWP_4.4.2.
3. Launch the program by navigating to InstantWP_4.4.2 InstantWP.exe and double-clicking.
4. The following screen will display: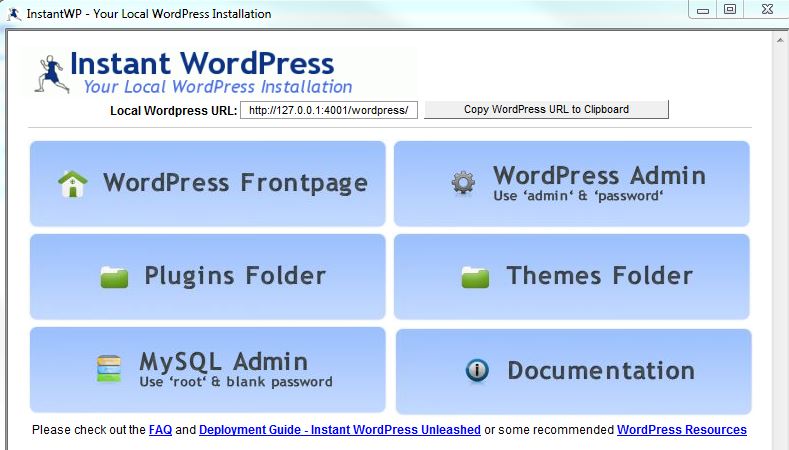 From there you can launch your new installation and get to work!
You can also duplicate a live website and bring it into Instant WordPress for testing and upgrades. I have not yet tried this but once I do it will be the topic of a future post.
The author also sells a deployment guide which describes how to migrate and deploy a new site as well as get a copy of a live site or clone your website.
I'm curious if you have tried Instant WordPress and what your experience has been? Are there other alternatives that you use for new site development that you can recommend?